A cake for vegan friends
I always make this cake when my vegetarian friends come to visit me. Basically the cake is always the same, but each time I vary it a bit, depending on the ingredients that are currently available to me. At the request of the girls from the forum, I am posting it.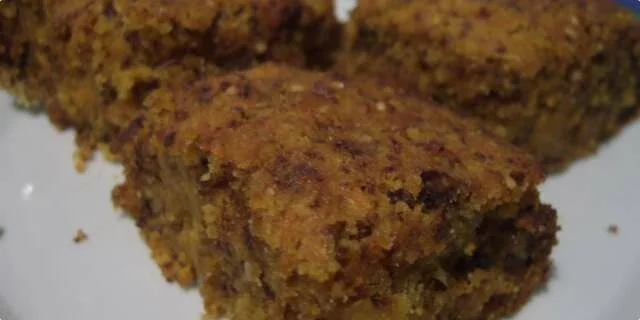 Preparation steps
Mixture preparation:
Peel a carrot, grate it, mix it with sugar and water, baking powder, vanilla sugar, walnuts and flour.
If you don't have ground flaxseed, grind it a little in a coffee grinder, just enough to break up the beans a little.
Fry the integral sesame in an empty pan, just to darken it a bit.
Add sesame and flax to the cake mixture and mix everything well, add oil and all other ingredients.
Flatten the mass well and pour it into a baking tray (small deep) that you have greased with olive oil and sprinkled with wheat germ or walnuts or flour.
Bake for about 25 minutes in a preheated pan at about 200 ° C. Try a wooden stick, if it is baked, then the stick should come out dry from the cake.
Serving
I wrote here how I made it yesterday, you can of course add grated ginger root, you can add cinnamon, allspice or some other scents that suit you. I like this cake because it is extremely easy to make, it is fragrant and above all healthy. You can always vary the ingredients to your liking. My friends love it, but my kids have nothing against this cookie in their school meal box either.