A cake for success
A gift to a hard-working girl for a successful diploma. She graduated from the University of Finance.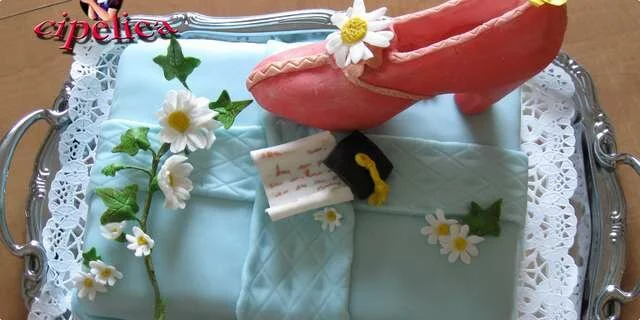 Preparation steps
Kore:
Bake 2 egg shells, sugar, walnuts and flour in a square pan.
Divide each into 2 parts. Cream:
Soak the ground plasma biscuit with orange juice.
Steam the walnuts with a little hot sweetened milk.
Whisk together 250 g of butter.
Lightly mix all ingredients into a fine cream. Sprinkle each crust a little with sugar syrup and sprinkle with cream. The cake is coated with fondant mass, acvijet: is made of gum paste, and the shoe is made of fondant mass and gum paste.