A cake for every day
A cross between a zlevka and a classic yogurt cake. With seasonal fruit, corn flour, no sugar, modest appearance, but rich taste - quite to my taste.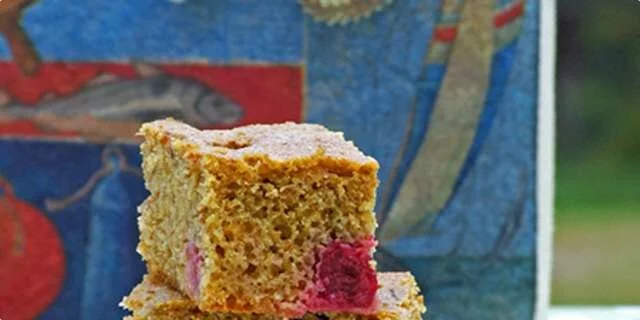 Preparation steps
Sift and mix both types of flour with baking soda. Chop the peach into cubes and clean the cherries.
Beat the eggs at room temperature with honey and a pinch of salt. Stir until you get an even mixture. Then mix in the yogurt and oil. Stirring (in my case by hand) add flour and spices.
Place baking paper on the bottom of the mold (approx. 20x30 cm) and pour in the dough. Arrange the fruit on top.
Bake for about 30 minutes in a preheated oven at 175 ° C (classic baking, 2nd level from the bottom). Adjust the time and method of baking to your oven.
Serving
Cool the cake before cutting.