A cake for a loved one
My favorite surprised me in the most beautiful way, she bought a puuuuuno of sweet apricots… And I, I decided to give it back in an equally beautiful way: with this light, summery and refreshing, in short: too good cake! P.S. Now you are just wondering who is the Favorite ?! My favorite is the second name of my very good friend, mother :) :) :)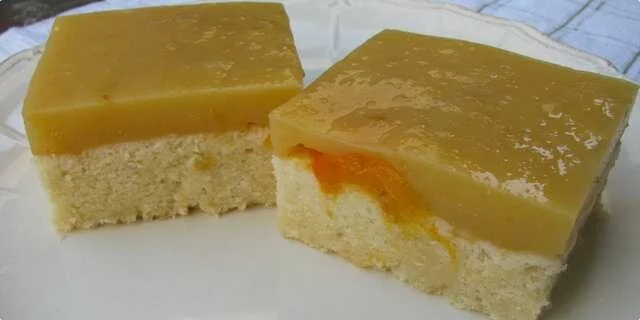 Preparation steps
BISCUIT
Mix egg yolks, sugar, oil and grated rind of half a lemon.
Gradually add milk and flour sifted with baking powder.
Finally, lightly stir in the egg whites.
Bake at 160 - 170 degrees for 30 min.
CREAM
Cook apricots with sugar in a liter of water for about 10 minutes (be careful not to fall apart too much).
Strain, but save the water and peel the apricots.
Return 1/3 of the apricots to the filtered water and strain everything (it is best to use a stick mixer). Arrange the rest of the apricots on the biscuit.
Bring the water to a boil again and stir in the pudding (we have previously stirred the powder into a couple of tablespoons of cold water and gradually poured in and mixed quickly to avoid the formation of lumps).
Pour the hot cream over the biscuits.
Put the cooled cake in the refrigerator for a few hours.
Serving
And finally… I was thinking about what to pour over the cake. As option no. 1: classic would be whipped sweet cream; no. 2: thicken a part of the biscuit dough with flour, grate it and put it in the oven for a short time, then sprinkle it over the cake with these "crumbs"; no. 3: make a sheet / crust of whipped egg whites and sugar (as for puslice, dry in the oven) and place it over the cake; no. 4: cottage cheese mixed with a little sweet cream and sugar to taste and well worked out with a mixer into a smooth mixture… But then I decided, I won't put anything! The biscuit is exquisite, and the apricot cream is too refreshing and I don't want to "underestimate" their taste with anything;)